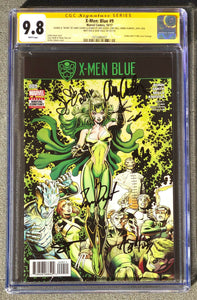 X-Men Blue # 9
X-Men 50 Homage Variant
1st Print


Signed by the Cast of THE GIFTED at the SDCC 2018 !!!

CGC graded 9.8 with white pages.

This means that this book was signed by
**  Amy Acker (Kate) - also from Angel and Person of Interest
**  Coby Bell (Jace)    

**  Jamie Chung (Clarice/Blink)
**  Emma Dumont (Lorna Dane/Polaris)
**  Sean Teale (Marcos/Eclipse)
**  Jeph Loeb (executive producer)
**  Matt Nix (creator) - also from Burn Notice

A little about CGC.  This is a SIGNATURE SERIES verified by CGC. (Certified Guaranty Company)

To qualify for a Signature Series (Yellow Label), the signature has to be obtained by the artist with a CGC employee to witness the transaction.  This label is applied to comic book that have been signed by someone of significance to the comic, under the direct observation of a CGC representative, and are thus certified as an authentic signature by CGC.


FREE SHIPPING !!!!